In August 2022 I was given the honour of heading the refurbishment of Science World's famous Tower of Bauble, New York audiokinetic sculptor George Rhoads' 24-foot-tall musical rolling ball sculpture which had graced the entrance area of Science World since 1985.
With the sad passing of the original artist in 2021, someone to fix and freshen the 37-year-old Vancouver landmark was needed, and I have been doing my best since commencement in October 2022 to fill George's venerated shoes and bring it back to life.
Completion of this incredible project is slated for spring of 2023, when it will finally return to its place at the Science World entrance. Click on the links below to read more about the Tower of Bauble, as well as about my part in this project. Many thanks to Derek Lee, Science World donor, who made this all possible.
Science World blog piece "Let's Meet At the Tower of Bauble with Science World Donor Derek Lee"
Vancouver Is Awesome article "What happened to the giant musical ball-drop sculpture outside Science World?" -Allie Turner
Vancouver Is Awesome article "How a retired woodworker ended up building machines for Science World and UBC" -Allie Turner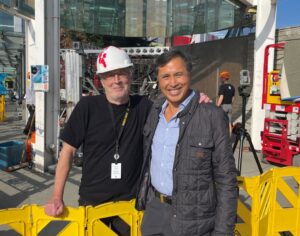 With Science World donor Derek Lee on the day of dismantling for refurbishment.
Photo credit: Science World